Custom App Development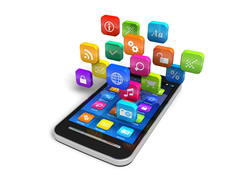 Custom application development solutions enable organizations to achieve a competitive advantage in this continuously changing technology world. ANGLER's Mobile App Outsourcing team specializes in customized app development that include gamut of technology and tools to achieve the desired results and business propositions. Our development team delivers you world-class experience across mobile platforms for diverse industries including gaming, healthcare, hospitality, travel and retail etc.,
Our outstanding cross-industry expertise, clear understanding of business processes and information technology, benefits many businesses/organizations by supporting the needs of customized, market-leading app development. Here our technology addresses gaps in the functionality provided by commercial applications by customizing existing applications or creating new applications.
Customized solutions from Mobile app outsourcing interoperate with one another and existing backend platforms to facilitate flawless mobile app solutions. When customized our applications follow better security measures and deliver functionality as per the client business objectives. This results in delivering high performance and a faster time-to-market mobile apps.
Our highly innovative and customized app development services have profited numerous clients with the feature-rich and highly focused designs and architecture. Mobile App Outsourcing's custom app development includes:
• Application Managed Services
• Cloud Applications
• Service-oriented architectures (SOA)
• Application with full life-cycle integration
• Web applications
• Rich Internet applications
• Mobile and RFID applications
• Grid/high-performance computing application
We deliver end-to-end Custom mobile application development services, Whether you need a custom
native Android, iOS, Windows app or prefer a cross-platform hybrid app development , Mobile app outsourcing can help !!!