Android is one of the highly flexible Operating System, developed with a large number of unique applications that attract and support the users in each and every way. Statistics indicates that one out of every two Smartphone users use android; this enhances your android apps to reach out large number of potential users in a cost effective way
Our professional team of skilful designers and knowledgeable Android App Developers has a proven track record in developing extensive range of apps that support diverse versions of Android OS including the latest "Android 7.1 Nougat".
Most of our android apps have been successfully deployed in Google Play Store that are depicted by both our clients and their users as highly creative, flexible, more responsive and user-friendly apps. Customize your business app with more interactive & user friendly features by outsourcing to the industry leading Android application development company.
We make your apps stand out from the competition, by giving extra push with continued maintenance, 24×7 support, bug fixes and release of new versions
Our Android App Development skill sets include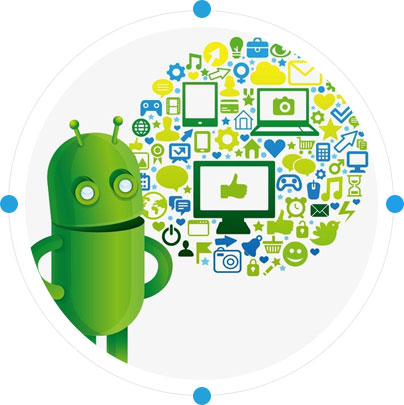 We offer all native applications with multi touch implementation
Desktop based customized solutions and generalized widgets
Development services with integrating APIs like Google maps
Audio / Video capabilities using Media framework
Web server interaction from Android application
Server response rendered using XML parser
Interactive client side functionality using Web Services
Our Android App Development services include
Business App Development
Medical and health care App Development
Finance and accounting App Development
Media and Entertainment App Development
Social Networking App Development
News, Sports, Travel App Development